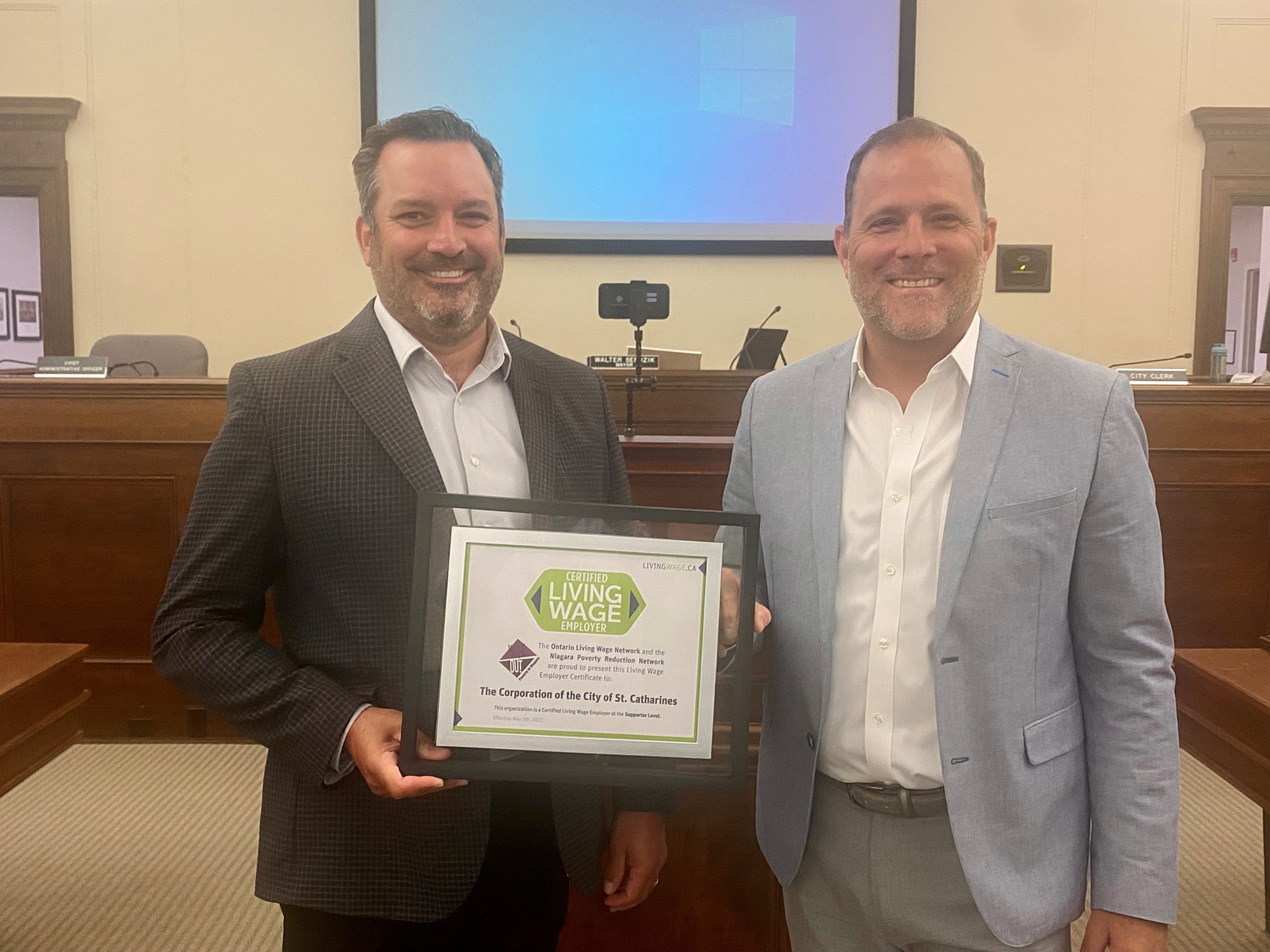 The City of St. Catharines is Niagara's Latest Certified Living Wage Employer
The Niagara Poverty Reduction Network is pleased to announce that the City of St. Catharines has become the largest municipality in Ontario to begin the living wage certification process.
The City currently pays all full time employees the Niagara region above the living wage rate of $18.90/hour and has committed to have all part time employees, as well as a procurement policy for all third party contractors, up to the living wage by December of 2024.
"The City of St. Catharines is proud to join the growing list of Niagara companies that believe in the principles of a living wage as a means to generate greater economic opportunity for everyone. We are investing in people and our economy with the belief everyone should be able to prosper," said Mayor Walter Sendzik. "This is also a call to attention to this important quality-of-life measure, which will hopefully inspire other organizations in the City to adopt a living wage and become socially responsible employers."
A living wage reflects what earners need to be paid based on the actual costs of living and being included in the community. A living wage is not the same as the legislated minimum wage. It is a voluntary commitment that employers can make to compensate directly-employed and contract-employed full-time and part-time workers.
"We at the Ontario Living Wage Network are excited to add the City of St. Catharines to the ranks of certified municipalities in this province—the largest to do so thus far. The Mayor and Council are declaring to their community that work must not hold employees in the ranks of working poverty, and that we must strive to do better than the bare minimum," adds Anne Coleman, Program Manager with the Ontario Living Wage Network.
Learn more about Niagara's living wage at www.wipeoutpoverty.ca. Niagara-area employers interested in becoming living wage certified can contact the Ontario Living Wage Network for more information at www.ontariolivingwage.ca.
Related Posts