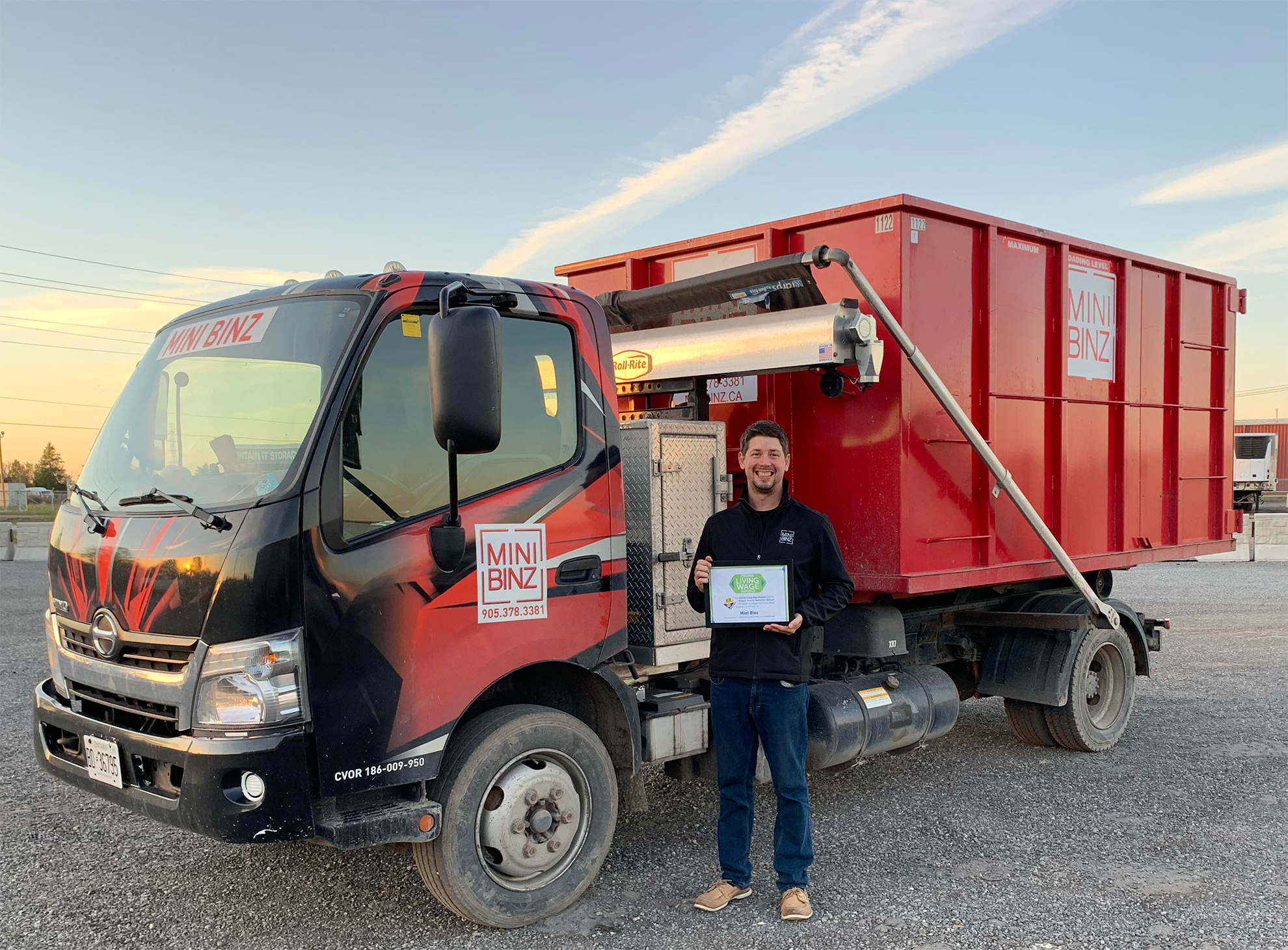 Mini Binz is Niagara's Latest Certified Living Wage Employer
The Niagara Poverty Reduction Network is pleased to announce that Mini Binz has become a certified living wage employer at the Champion level.
Mini Binz proudly provides the Niagara region with simple, straightforward junk removal. They offer premium service at a competitive price. Mini Binz is locally owned and operated and currently employs five full time staff.
"We are very excited and proud to be joining the Niagara region's certified living wage employer program. Providing a living wage to all our employees is just one way in which we demonstrate our commitment to our employees, their families and the communities in which we serve. We know that the quality of life, overall morale and happiness of our team is not only beneficial to our company's success, but also has a ripple effect directly into the Niagara community. We are thankful for this opportunity to join the expansively growing community of living wage providers, and strongly encourage more companies to join the wave," says Richard Roessner, Owner, Mini Binz.
"We're pleased to see local employers recognizing the value and benefits of paying at least a living wage. Paying a living wage is direct action to address poverty, and helps people afford the cost of living," says Jennifer Gauthier, Vice Chair, Niagara Poverty Reduction Network.
A living wage reflects what earners need to be paid based on the actual costs of living and being included in the community. A living wage is not the same as the legislated minimum wage. It is a voluntary commitment that employers can make to compensate directly-employed and contract-employed full-time and part-time workers. The current living wage for Niagara region has been calculated to be $18.12/hour. If an employer's total compensation package includes benefits such as dental and prescription drugs, the living wage can be lowered by at least $1.00/hour.
Learn more about Niagara's living wage at www.wipeoutpoverty.ca. Niagara-area employers interested in becoming living wage certified can contact the Ontario Living Wage Network for more information at www.ontariolivingwage.ca
Related Posts