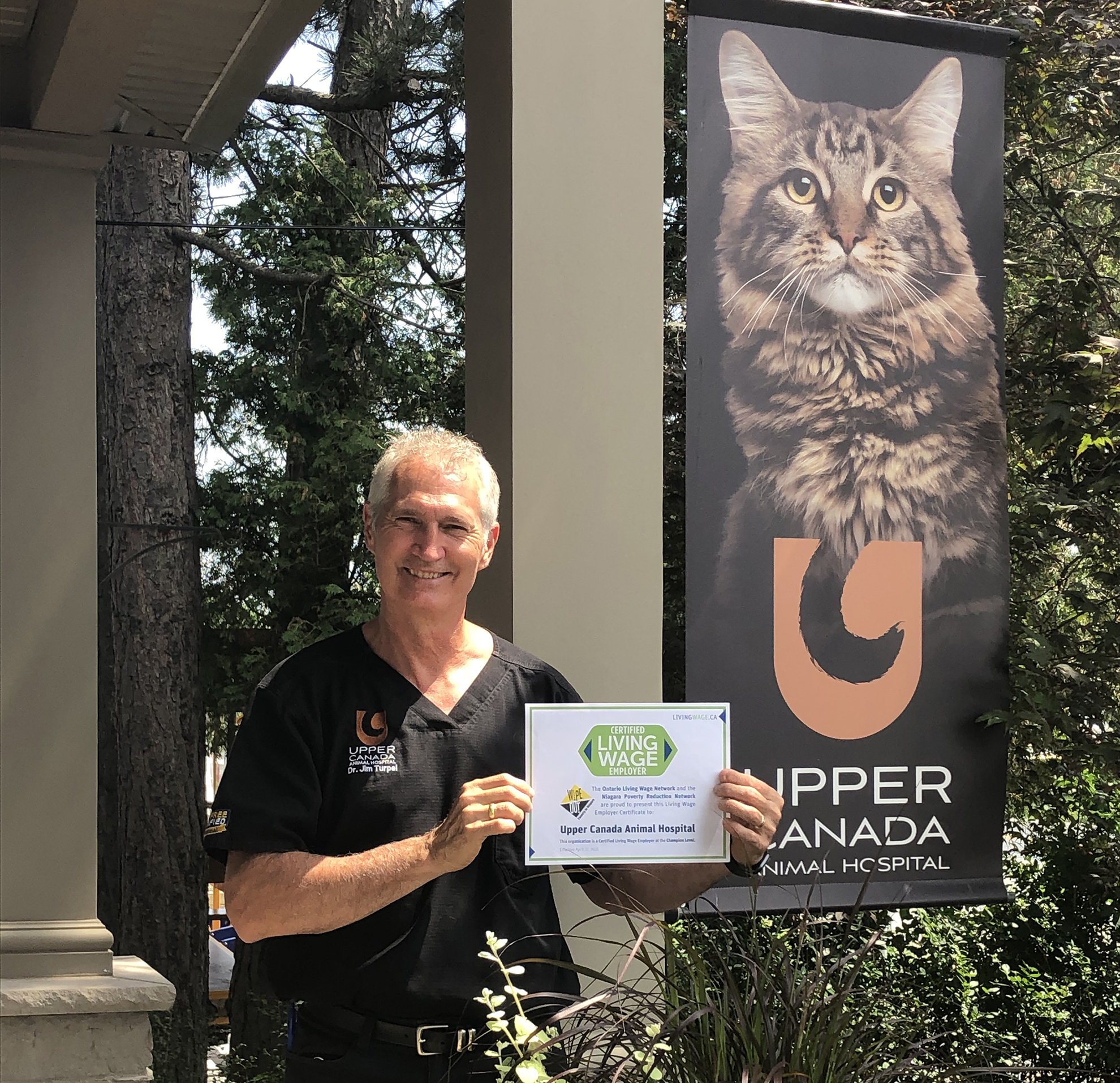 Upper Canada Animal Hospital is Niagara's Latest Certified Living Wage Employer
The Niagara Poverty Reduction Network is pleased to announce that Upper Canada Animal Hospital has become a certified living wage employer at the Champion level.
Upper Canada Animal Hospital is a full service veterinary clinic based in Niagara-on-the-Lake and serving the entire Niagara region. With a keen focus on cats and dogs, they offer an exceptional level of care, treating your furry friends like their own. For over sixteen years they have treated pets in and around Niagara and their passion for animals is what drives their practice. Their team works together to build strong relationships with clients, offering the very best in terms of quality, convenience and animal care. While they are situated in the heart of Niagara on the Lake, approximately 50% of their clients come from surrounding communities. Upper Canada Animal Hospital currently employs 15 full time employees.
"We chose to become a living wage employer because we believe every employer has a social responsibility to pay fairly, to pay well and ensure a healthy work life balance for their team" says Tracey Niven, Hospital Manager, Upper Canada Animal Hospital.
"We're pleased to see local employers recognizing the value and benefits of paying at least a living wage. Paying a living wage is direct action to address poverty, and helps people afford the cost of living," says Aidan Johnson, Chair, Niagara Poverty Reduction Network.
A living wage reflects what earners need to be paid based on the actual costs of living and being included in the community. A living wage is not the same as the legislated minimum wage. It is a voluntary commitment that employers can make to compensate directly-employed and contract-employed full-time and part-time workers. The current living wage for Niagara region has been calculated to be $18.12/hour. If an employer's total compensation package includes benefits such as dental and prescription drugs, the living wage can be lowered by at least $1.00/hour.
Learn more about Niagara's living wage at www.wipeoutpoverty.ca. Niagara-area employers interested in becoming living wage certified can contact the Ontario Living Wage Network for more information at www.ontariolivingwage.ca
Related Posts