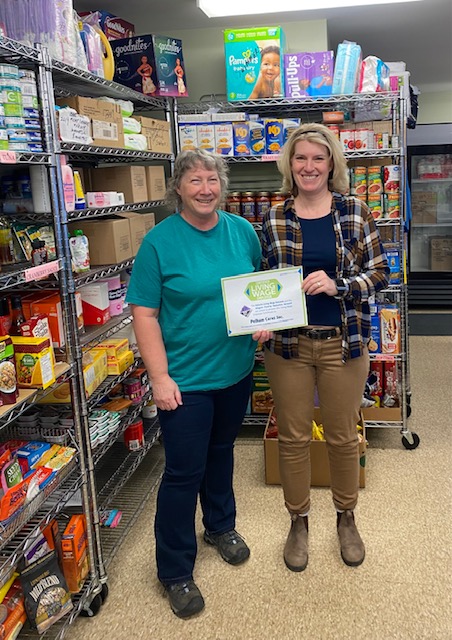 Pelham Cares is Niagara's Latest Certified Living Wage Employer
The Niagara Poverty Reduction Network is pleased to announce that Pelham Cares has become a certified living wage employer at the Champion level.
Pelham Cares was created in January of 1983 to assist in the delivery of social services to people in the Town of Pelham with particular emphasis on those services not provided by other organizations or agencies. Pelham Cares Inc. is not just a food bank. The services provided have evolved from providing food and friendly visits to include food, personal hygiene and household items, transportation to medical appointments, the sponsorship of youth to enable their participation in sports, recreational and educational activities, and information and referrals in response to emergency situations. They currently have two part time employees.
"Pelham Cares chose to become a certified Living Wage employer to value our employees and foster a dedicated, skilled and healthy workforce. Everyone deserves to make a livable wage. The cost of living is constantly increasing and the standard minimum wage doesn't always have time to catch up, "says Susan Mark of Pelham Cares.
"We're pleased to have on-going support from local employers who recognize the value and benefits of paying at least a living wage. Paying a living wage is direct action to address poverty and helps people afford the cost of living," says Jennifer Gauthier, Vice Chair, Niagara Poverty Reduction Network.
A living wage reflects what earners need to be paid based on the actual costs of living and being included in the community. A living wage is not the same as the legislated minimum wage. It is a voluntary commitment that employers can make to compensate directly-employed and contract- employed full-time and part-time workers. The 2021 living wage for Niagara region has been calculated to be $18.90/hour.
Learn more about Niagara's living wage at www.wipeoutpoverty.ca. Niagara-area employers interested in becoming living wage certified can contact the Ontario Living Wage Network for more information at www.ontariolivingwage.ca.
Related Posts